OSNPC Treasure Hoard #2303
WotC's One D&D OGL Problem
Welcome to OldSchoolNPC's weekly newsletter. If you'd like these sent to your inbox, you can subscribe below. You even get a free one-shot adventure module when you join. All the previous issues (along with other posts) can be found here.
Featured Video
The big news over the past week was Wizard of the Coast's release of the new One D&D Open Game License. It was not so much a release as it was a leak that quickly erupted into a firestorm. By the end of the week, Wizards had released a statement that did nothing to calm down the community.
The rumors are that tens of thousands of people cancelled their D&D Beyond subscriptions. I was one of them. I am also working on a new adventure module and was planning to make it 5e compliant. But after this turn of events, the module will instead be system neutral.
I posted a few videos on this topic over the last several days, but it was not all I talked about. I still love TTRPGs and want to focus on the hobby as a whole. So my featured video this week is actually one I posted where I talk about why I love the Old School Renaissance style of play.
---
News and Updates
I hosted two live streams this week.

If you are among the many, such as myself, that are looking to expand your TTRPG circle beyond Dungeons and Dragons, here are some core books for other rule sets that could help get you started.

Some of the best news that came out of this week is word that Paizo, and a number of other companies, are working on the Open RPG Creative License. This new license will be managed by a third-party and allow the companies to make their content available for the larger community under a common set of terms. This is a wonderful direction that shows a focus on community over pure corporate profits.

The Legal Eagle channel did an excellent take on the OGL fiasco and actually used the same example that I did to distinguish between mechanics and content in my video about what WotC doesn't want you to know.

January Discounts
---
What To Look For This Week
Some character creation tips for Pathfinder 2e newcomers

A few other reasons to consider looking beyond Dungeons and Dragons

Please join me for the live stream on Thursday to talk about TTRPGs
---
The Mines of Kashtel Gale
Progress Update
I was busy this week on a lot of other things and was not able to progress on the new adventure as much as I hoped. I do have the main maps completed and all the modules for the year are outlined. I still need to create the full color maps for the key locations.
Below is a look at the maps coming in the first module in the campaign.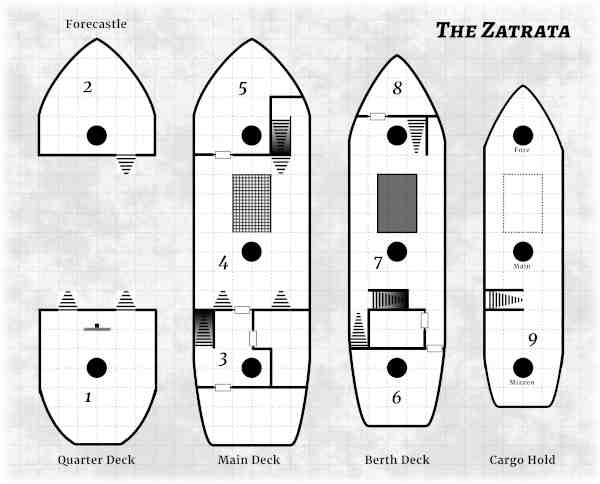 ---
That's it for now. Note that I use affiliate links to help support the newsletter. Using those links along with paid newsletter subscriptions and any contributions sent through Ko-Fi allow me to keep this newsletter free for the community.
Until next time.
Take care.